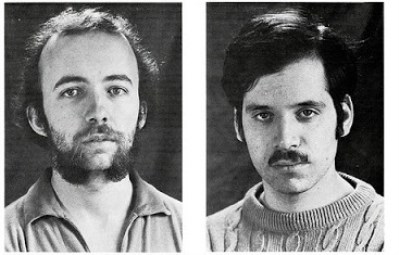 Originally members of high school bands Rebskasos and subsequently Pigling Bland in the early 70s, Steve Gore and Steve Kretzmer's connection was meant to be. Both musicians shared similar interests in life and music, both composers and musicians, and both just happened to play keyboards and drums. Both Steves were born in 1958 and raised in suburban Detroit (Oak Park, Ml). Both Steves left-handed. A perfect musical union was formed. With Pigling Bland disbanding upon completion of high school, the duo formed Rascal Reporters in 1974 to continue working together.
During the years 1975 and 1976, the pair were writing and recording one song per day, everyday, throughout both years. A box-set of unreleased music could be culled just from these two years alone. Steve Gore, renowned for never erasing any piece of music from any tape at any time or any year, was largely responsible for the existence of the 30-year tape vault known as the "RRkives." The first attempt to "go public" with the group was in 1978, with a planned 45rpm picture-sleeve release, "My Name"/"Ricky And His Dad." The release was cancelled due to lack of funding (though appear on the "The Foul Tempered Clavier" album as bonus tracks).
Public exposure finally came in 1980, when Archie Patterson of Eurock, then based in California, released the Rascal Reporters' full-length "cassette album," "Freaks Obscure" to the world. This was one of Eurock's very first releases in the relatively new era of "group self-produced albums on cassette." This was immediately followed-up with "We're God," also a Eurock cassette release, and also issued in 1980 (Bandcamp – 2019 remaster). These two releases established a cult-like following for the band. People suddenly wanted to hear more of this strange, bizarre, and sometimes obscene music, which still remained rooted in the British Progressive Rock movement of the late 70s.
The group issued a 45rpm single in 1981, "Guns For Jerry's Kids" / "Beatrice" (available as bonus tracks on We're God), and a landmark LP in 1984, "Ridin' On A Bummer" (Bandcamp – 2020 mix), which boasted guests Fred Frith, and Tim Hodgkinson; their first reuniting since the break-up of their group, Henry Cow, in 1978. The Reporters' popularity increased greatly after this release.
The Rascal Reporters' legacy was permanently cemented in 1988, when they released what is often considered their "masterwork," the "Happy Accidents" LP (Bandcamp). The musicians they loved and were influenced by were suddenly becoming their friends. As such, the LP boasted guests, Guy Segers of Belgium's "Univers Zero", Nick Didkovsky of New York's "Doctor Nerve," Dave Newhouse of "The Muffins" (a very frequent contributor to their work; almost a "third member" of the group), Steve Feigenbaum, CEO of the Cuneiform Records label and Wayside mail-order company, playing his final-ever musical performance (guitar) on an album, David Kerman of "5uu's," "U-Totem," and guest drummer on far too many CD's to list here, James Grigsby, leading composer for the group "U-Totem," as well as Steve Kretzmer's virtuoso bass guitar-playing older brother, Paul Kretzmer, who had also been an RR "3rd" member on and off for 20 years. "Happy Accidents" sold out quickly and audience demand for more became greater.
Up to this point, all music was released on the group-owned label, "Hebbardesque." Neither of the two Steves able to "read or write" music in the formal sense. All music composed by ear, and the "rote-repetition" discipline. It is certainly a bizarre coincidence that both musicians play keyboards and drums (Steve Gore being a stronger drummer; Steve Kretzmer being a stronger keyboard player), and compose music. Another very odd method of the group is this: the majority of the music is usually completely composed and performed by only one of the two members at any one time. Basically, two "one-man bands" working together sharing each album's runtime, comprised of two individual musicians with differing but complimentary composing styles. Working with guest musicians throughout the 80s was accomplished by mailing reels of tape to each contributor, who would record via their own facilities and mail the tape back, in what amounts to essentially an old-school form of file swapping.
The Reporters 90's output comprised of 1995's "Purple Entrapment" (CD Baby / Spotify), which was released on CD via Wafer Face. This release saw the Steves' sound turn to more digital and electronic textures, presenting an almost Muzak like twist on their sound at points, but also with more "song"-driven and vocal-led tunes.
In 2001, "The Foul-Tempered Clavier" (CD Baby / Spotify) was released on CD by Pleasant Green Records. This release saw the band eschew vocal material and back to the Happy Accidents instrumental approach. The sound on this album harkens to the likes of "Uncle Meat" by Frank Zappa and his later Synclavier output. It features numerous contributions from Dave Newhouse on horns, and closes out with one vocal piece, "Tomorrow".
The final Rascal Reporters full-length album during the group's original run is 2008's "The Mind Boggles" (Bandcamp), which was written and recorded mostly by Steve Gore during a time where Steve Kretzmer had taken a step back from music, though Kretzmer does write and perform on 3 tracks from the album, along with guests Mark Harris ("Thinking Plague", "Hamster Theater") on saxophone, keyboardist Michael Sahl (Judy Collins, Van Dyke Parks), and enigmatic bassist Bob Shirley.
In 2009, news came that Steve Gore had unfortunately and suddenly passed away, and it seemed as though Rascal Reporters may have come to an end.
During the first half of the 2010s, the massive collection of Rascal Reporters archived reel-to-reels, DATs and cassettes were digitised by Brian Donohoe, with never before heard material being made available via Bandcamp. The music was faithfully remixed and remastered by Brian for compilation releases and single / EP releases, such as the 2012 release of the never before heard full length version of "Psychlops", which had been teased in excerpts as bonus tracks throughout the band's career. Also released was the Steve Kretzmer 1986 solo EP "Oil of Lavender", Steve Gore's "The Human Chain" from 1983, a rare live recording of the band performing in high school in 1976 with an Egg-like Canterbury sound "Elegant Decay", and an expansive 36-track compilation "Nice Not To Be Here" featuring a wealth of never-before-heard material from throughout the bands history.
In late 2018, Steve Kretzmer released his first new music in 18 years, a new Rascal Reporters single "Unknowable" / "I Cries Crimes" (Bandcamp / CD Baby), featuring guests Guy Segers of "Univers Zero", Kim Sajn of "Polyethylene Pet/+1" and Dario D'Alessandro of "Homunculus Res".
2019 saw Steve Kretzmer invite new member James Strain to join him in the group, returning the Reporters to its classic 'duo' form. James, while not being named 'Steve' or being left-handed, shares a lot of other common factors with Reporters, namely having a history of writing and self-recording in a 'one-man band' manner, not being able to read or write music in a formal sense and instead relying on rote repetition and memory for composition and performance, and a taste for colourful sounds and complex compositions.
2019 would see James complete a new release for the group: Redux Vol. 1, followed by Vol. 2 in 2021. This was a semi-archival series which featured up-cycled versions of lost compositions with new arrangements and overdubs from Strain. The album was well-received by critics and fans alike for its fresh spin on the classic Reporters DNA. Since joining, James has also completed new mixes and remasters of the back catalogue, such as 2019's remaster of We're God and 2020's mix of Ridin' on a Bummer.
The first album of all-new studio material from Kretzmer & Strain's Reporters is titled 'The Strainge Case of Steve' (Bandcamp), and is released by the legendary Cuneiform Records label on July 28th, 2023. Featuring 16 tracks and a runtime of 78 minutes, the compositions on the album are split between Kretzmer and Strain, showcasing a new sound and style for the group that still holds true to their history. The album was recorded between 2017 and 2023 at Kretzmer & Strain's home studios in Michigan, USA & Carlow, Ireland respectively. It features guest appearances from returning favourites and members of classic avant prog groups such as long time collaborator Dave Newhouse and Guy Segers, along with members of some of today's most exciting new groups such as Jessica Martin Maresco ("Pili Coit", "Le Grand Sbam") and Dario D'Allessando.
The Rascal Reporters' major musical influences include: The Beatles, Frank Zappa, Gentle Giant, Egg, Hatfield and the North (and off-shoots), Henry Cow, Soft Machine, The Residents, Gryphon, The Enid, Stackridge, Univers Zero, Art Zoyd, Tipographica, The Muffins, Burt Bacharach, Bela Bartok, The Archies, PFM, Van Dyke Parks, Brian Wilson, Judy Collins, U-Totem, Bread, The Regeneration, Herman Szobel, Krzysztof Komeda, Genesis, Magma, etc.